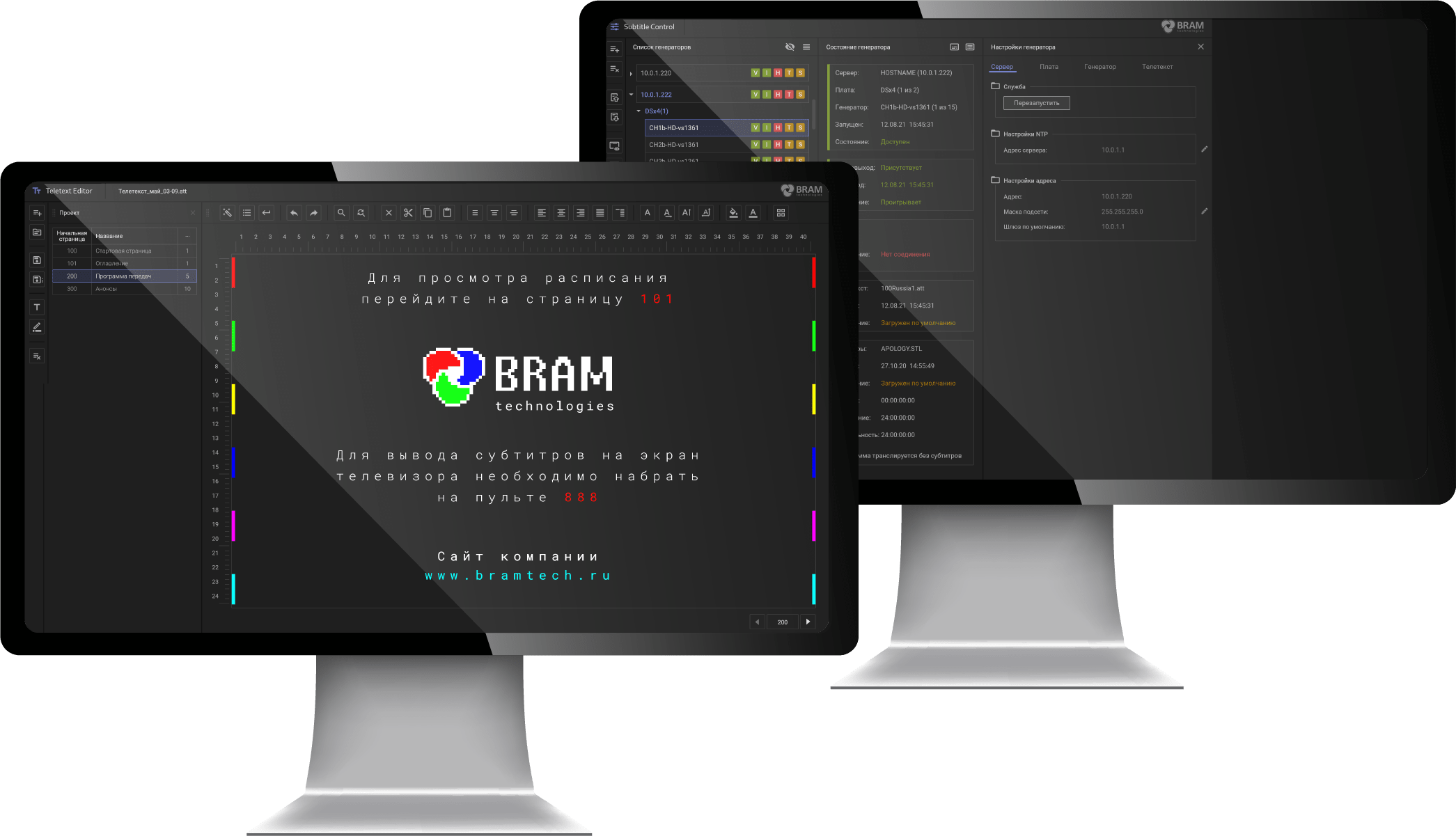 Teletext Suite 2021
Teletext Suite 2021 is a teletext and subtitling software which enables to create and playout teletext and subtitles. It allows to create new or edit existing subtitle files, prepare teletext.  The resulting subtitles and teletext can be used on BRAM Technologies' Azimuth server playout, or any 3rd party solutions.
Application
24/7 Multichannel Broadcasting
Playout Operations
News Operations
Channel Launch
Content Management
Advertising Insertion
Subtitling Insertion
Teletext Insertion
Specifications
Teletext file formats: *.att
Subtitle file formats: ast, srt, stl, xif
OS: MS Windows 10 Pro/Linux
Supported standards: SD ETS 300 706, HD OP-47
New
Teletext Editor – attribute display;
Teletext Editor – importing images for outline markup;
Teletext Editor – interface and spellcheck language autoswitch;
Subtitle Editor – simplified file operations;
Subtitle Editor – productivity and usability enhancements;
Azimuth-TT – better performance from backend optimization.
Features
Tele

text Suite

with its operational process according to the IABM BaM Content Chain:

Benefits
| | |
| --- | --- |
| USER-FRIENDLY INTUITIVE INTERFACE AND HOTKEYS | Style rule templates and other client specific configurations all saved and easily retrieved with this teletext and subtitling software. |
| SAVE TIME AND SIMPLIFY YOUR PROCESSES | Teletext Suite is a solution that can enable you to quickly prepare the main page from a template, automatically create contents lists, feature programs, trailers and announcements. |
| CONTROL & MONITORING | With this teletext and subtitling software you are able to check spelling automatically and monitor audio levels. |
| CHOICE OF PLAYOUT | Teletext Suite offers two hardware choices for subtitle/teletext playout: a mainstream Azimuth-VS video server and a specialized Azimuth-TT teletext server. |
| MULTILANGUAGE SUPPORT | Teletext Suite can automatically select the user interface and spell-checking language depending on the operation system's locale settings. |