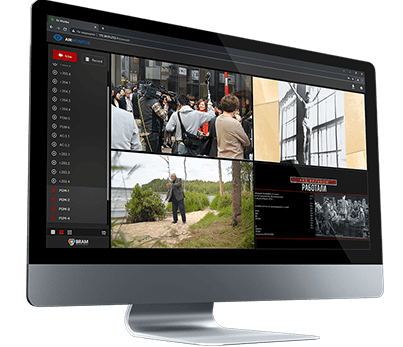 Application
Сompliance recording
Live feed monitoring
Recorded material review and repurposing
Specifications
24/7/365 recording of an unlimited number of video signals and IP streams of varied types and formats
Visual monitoring of recorded SDI channels and IP streams from any client workplace
Automatic quality control of incoming signal
Automation system integration for recieving and anylysing on-air metadata
Fast search of required video segment and its export to social media
Individual user rights assignment for preview, recording control and export for each channel
A cross-platform web client allowing simultaneous preview of up to 16 channels
Hardware encoding/decoding acceleration (NVENC)
New
ScreenCaster extension for workstation desktop video capture
Recording and monitoring capabilities as with any other source in AirMonitor
Ability to select one or multiple monitors for capture on each workstation
Flexible image quality and framerate settings
Hardware-accelerated encoding on nVidia boards
Audio recording from workstation microphones
Switchable keyboard and mouse key press capture and burn-in into video stream
Floating network licenses
Features
Digital video and audio signal recording from SDI interfaces
RTP/RTSP/SPTS/MPTS network stream recording
Automatic and manual loop recording with configurable loop duration and file segment size
Unlimited number of recording channels and servers in a single system
One-time, repeating and scheduled recording jobs
Individual recording schedules for channels or groups of channels
Auxilary signal recording: IP CCTV cameras, control room monitor capture, studio intercom etc
Adaptive "burn-in" of channel name, date and timecode into recorded videos
IP stream formation for remote visual monitoring of recorded material
SD and HD subtitle detection and playout for incoming signals and recorded mediafiles
Closed captions recording with a burn-in option for mediafile export
Configurable multiviewer templates
LUFS analysys and level display for a chosen program segment
Quick access to a chosen time interval of a selected channel
Automatic and manual export of material segments to external file
AirMonitor

with its operational process according to the IABM BaM Content Chain: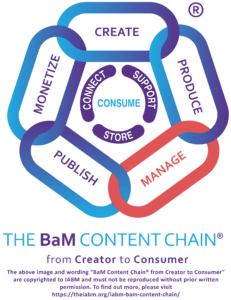 Benefits
A UNIQUE INTEGRATION WITH A LIVE PRODUCTION SYSTEM FROM THE SAME VENDOR
Azimuth Soft StudioX users can monitor mosaics and make configuration changes to the compliance recording system using familiar client modules. The unused input channels on the AirMonitor servers can be quickly repurposed for production tasks, giving the directors more possibilities and improving the efficiency of equipment utilization.

Existing customers using StudioX stand-alone or recording into the AutoPlay enterprise media workflow system have no need to change their workflows or retrain their staff when adding a compliance recording server to their facilities.

CROSS-PLATFORM WEB INTERFACE WITH MOBILE DEVICE SUPPORT
A completely new web client has been developed for AirMonitor, allowing for intuitive live feed and recorded material viewing in any current browser, with no plugins required. It works great on touchscreens, Macs, tablets, phones and practically everything else.
MODERN CLIENT-SERVER ARCHITECTURE
A service running on the AirMonitor server can now connect StudioX modules and web clients to multiple videoservers from anywhere on the production network, with centralized administration, user rights, profile export and everything else expected from an enterprise solution.
NVidia NVENC HARDWARE ACCELERATED ENCODING
The encoding calculations during recording can be offloaded from the server's CPU onto supported nVidia graphics cards, either increasing channel density or lowering the system requirements. Any individual recording channel can be configured to use software encoding or NVENC.
ADVANCED AUDIO TRACK AND SUBTITLE OPTIONS
Audio tracks in incoming feeds and streams can be selected for recording during system configuration – and selected again when exporting to a mediafile. The subtitles are saved in separate files and can optionally be burned into the video on export.