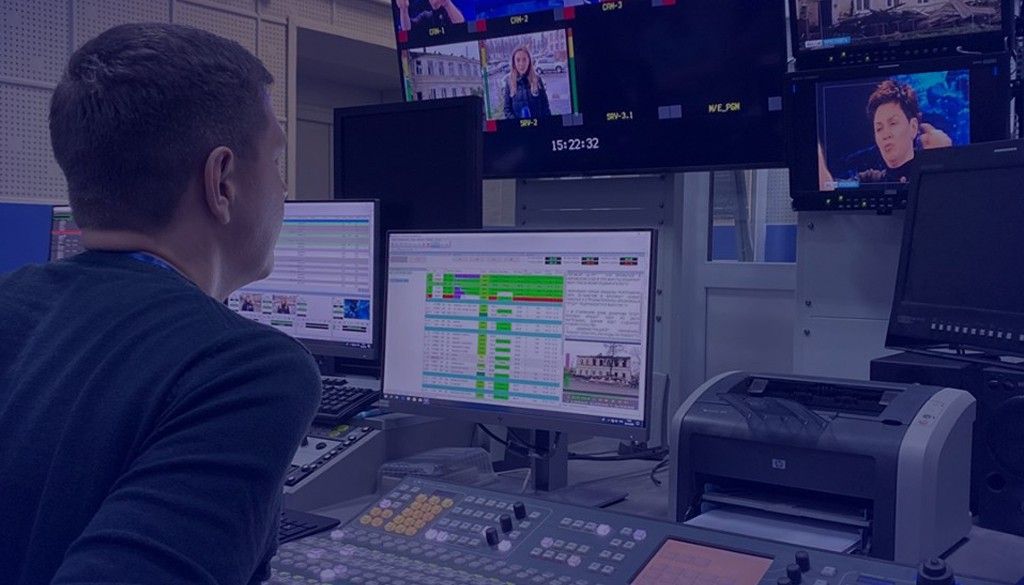 One our oldest and most cherished customers, a state-owned national TV network, completed a comprehensive modernization program in the early 2010s, bringing tapeless technology and modern newsroom automation to 50+ of its regional subsidiaries. Now, 10 years later, they were faced with an array of problems. The support for the installed equipment has run out and could not be resumed due to End-of-Life for some of the solutions, and the vendors own shuttering for others. Some of the systems selected on cost and lead time grounds had proven to be problematic and failed to deliver on the customer's expectations. Another upgrade cycle was initiated to replace these legacy solutions with new hardware and software, and to implement new, streamlined deployment, training and support procedures.
Azimuth Soft has won the competition for this project and has delivered an end-to-end solution to each of the participating stations. System architecture inevitably varied from site to site, but the basic solution design remained the same, allowing for much easier personnel training, spare and replacement parts allocation and centralized support, which at a national scale led to major savings and efficiency improvements for the customer.
A typical regional site built during this project includes a MAM system with its ingest and archive sections, an MCR playout for linear channels and newsroom/NLE/PCR capability for local news production.
The AutoPlay enterprise media workflow system forms the backbone of each site. Azimuth Soft built the database and application servers and production storage arrays for it in-house to meet the customer's strict reliability and security requirements. The systems were installed by our integration partners and commissioned by our own Professional Services personnel, who also performed staff training and certification.
All the media and metadata stored in the various legacy systems was successfully transferred into AutoPlay, in some cases by using existing migration mechanisms, and by developing bespoke procedures in others.
Azimuth videoservers are used both in MCR and PCR playout, controlled by AutoPlay Air automation for the former and NewsAir for the latter. The PCR news gallery includes Azimuth TitleStation Mix CG systems and 3rd party teleprompters connected by MOS. Journalists in the newsroom use the NewsHouse NRCS integrated with the AutoPlay MAM. The NRCS allows them to add lower-thirds and other graphics to their stories and to edit their own videos in the NewsBase NLE or send them to craft editing stations in an automated workflow.
Auxiliary systems provided by Azimuth Soft include the AirMonitor compliance recording suite, SystemMonitor infrastructure monitoring, teletext and subtitling solutions and more.
The multi-year, multi-stage nature of this project requires our Support to keep a sharp eye on version control and update rollouts for all of the regional stations. In according to a special SLA we provide 24/7 support to these sites, and the station personnel are very pleased that there's a one-stop shop for all of their issues and questions instead of multiple vendors' support departments working on different schedules all over the world, as was the case with their previous configurations.
This large-scale project has once again highlighted the operational advantages and added value a customer can extract from an end-to-end system design constructed from Azimuth Soft solutions. The immense amount of positive experience accrued during the project's execution allows us to confidently offer our products and services for use in the most demanding environments all over the world.